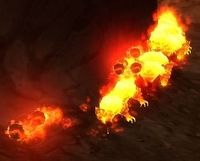 Lava spawn is one of the simple monsters in Molten Core and drops nothing special. They are spawned by Firelords and must be finished quickly before they split. They despawn in one minute.
Abilities
Edit
Fireball - Inflicts Fire damage to an enemy.
Split - The caster splits into an additional lava spawn.