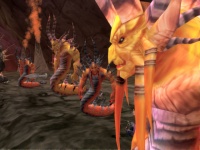 Flamewaker Protector is a humanoid snake-like lava creature in Molten Core acompaning Lucifron and casting some devious spells. Like 90%+ of the single monsters he drops Tier 1 Bracers and Belts.
Cleave - Inflicts weapon damage plus 30 to an enemy and its nearest allies, affecting up to 3 targets.
Dominate Mind - Takes control of a humanoid enemy up to level 25 for 15 sec.